Ready Mix Concrete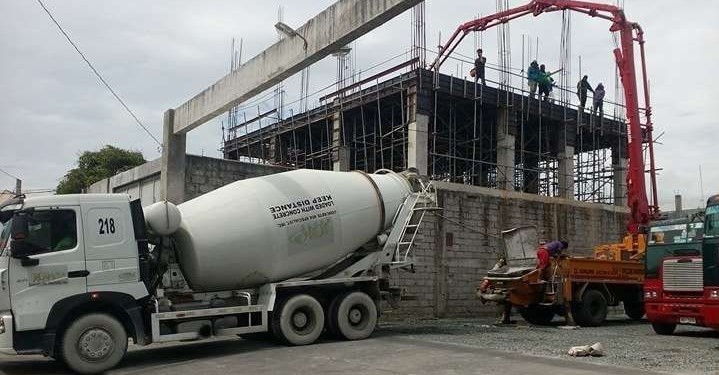 Extensive Product Line of iBM Ready-Mix Concrete Co. Ltd Uganda Concrete Solutions
iBM ready-mix concrete Co. Ltd supplies grades; (Grades 20), (Grade 25), (Grade 30), (Grade 35), and (Grade 40) ready-mix Concrete

iBM Ready-Mix Concrete Co. Ltd's normal Mix concrete is perfectly suited for all general concrete applications and requirements. Its compressive strength reaches between 10Mpa and 40Mpa, and can also be specified when you place your order.
Our Normal Mix concrete is manufactured with a slump of 100. However, it is easily possible to adjust the slump to meet the demands of your business requirements.

iBM Ready-Mix Concrete's Pump Mix is a pumpable concrete solution designed to offer more workable solutions. It can easily be pumped through the pump system, in order to reach the placement area with no hassle at all. In order to achieve better flow, compaction and finishing, it is always advisable to use the Pump Mix in concrete columns or similar confined spaces. Thanks to its special design, the Pump Mix achieves the same compressive strengths as with conventional concrete.


The Pool Mix ready mix solutions from iBM Ready-Mix Concrete Co. Ltd Uganda are designed for specific use in the construction of swimming pools. This solution is manufactured using less water, which results in lower workability of the concrete, making it possible to effectively pack the concrete to vertical surfaces. This is achieved without worrying about the concrete running.
iBM Ready-Mix Concrete Co. Ltd's No Fines Concrete ready-made concrete solutions contain little quantities of sand. Its characteristics make it perfectly suited as a reliable sub-surface drainage layer. It also serves as effective damp-proofing layers or insulation.
Pump Service Capabilities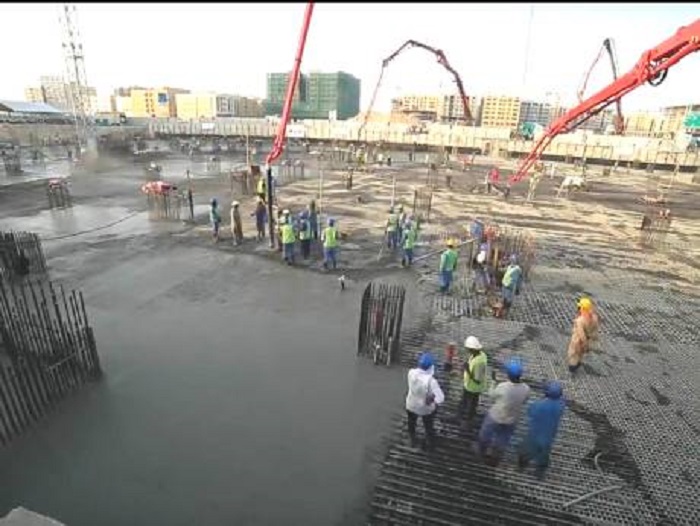 iBM Ready-Mix Concrete Co. Ltd Uganda has a fleet of 4 pump trucks which are used in our different regions for small to large projects within Uganda. Reach of the pump would be between 32 and 38 meters with the ability to extend this through pipe connections. Contact us to request either a site inspection or advice on how we can better assist your project completion through pumping solution.
iBM Ready-Mix Concrete Co. Ltd Uganda is well versed in high rise building pumping and have designed special mixes in order to resolve quality issues around high rise pumping. We also have a special Spreader that is used on high rise buildings which enables the user to easily supply concrete through a static pump up to the selected floor and then have mobility in where the concrete needs to be placed.
iBM Ready-Mix Concrete Co. Ltd Uganda's management and staff have extensive experience in the cement, aggregate, transport, and readymix concrete industries and are geared to meet all your requirements, from custom designed concrete mixes, mortars and screeds, to site assistance and concrete pumping.
Great Quality Ready Mix Concrete Solutions from iBM Ready-Mix Concrete Co. Ltd Uganda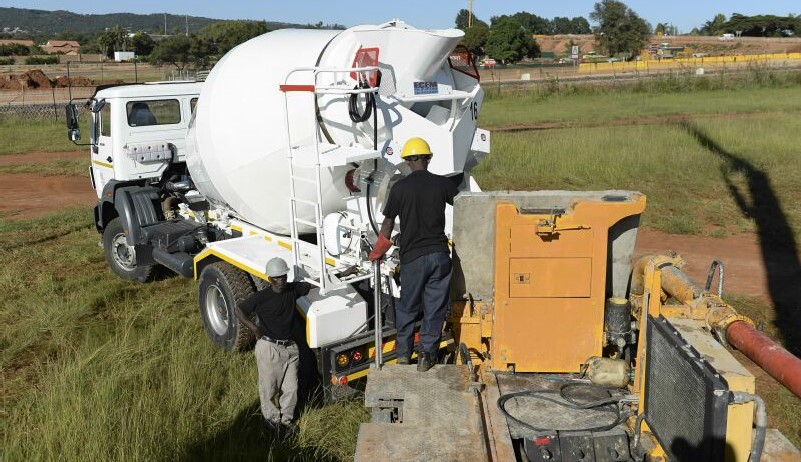 At iBM Ready-Mix Concrete Co. Ltd Uganda, we are aware that the manufacturing and delivery of quality ready-made concrete solutions are demanding and a specialised operation. However, we are committed to maintaining the very best quality of our products, at all time. To achieve this, we only make use of dolomite aggregates and the very best raw materials of the highest quality in order to ensure consistency.
We are proud of our great history of service and continue to work hard to offer our clients the leading solutions that they have come to expect from us. To learn more about iBM Ready-Mix Concrete Co. Ltd Uganda and our extensive selection of ready mix concrete solutions, simply contact us today.
iBM Ready-Mix Concrete Co. Ltd Uganda, a division of iBM Building Materials is the supplier of quality Readymix Concrete and Mortars with plants in the greater Kampala area. We are the most reliable ready mix concrete brand in Uganda with a fleet of over 20 readymix and tipper trucks, as well as TCB's and tankers. We have upgraded our fleet and now offer deliveries in a combination of either 6m3 or 8m3 trucks to best meet supply demands. Big fast jobs with good access are ideal for 8m3 deliveries.
iBM Ready-Mix Concrete Co. Ltd Uganda is a leading independent readymix producer in Uganda. It is a key supplier to commercial and industrial construction projects in the region.
Our Core Values:
☑
COMMUNITY EXCELLENCE
We recognize our responsibility and are committed to compassionately sharing our corporate and individual talents and gifts to build and care for our community.
☑
INNOVATION & EXCELLENCE
We invest in the development of our people and processes so that we continue to be known as industry leaders in the innovation of new products, engineering solutions and sustainability through continuous improvement.
☑
SERVICE EXCELLENCE
We offer our clients, employees and vendors a positive experience where our commitment to excellence is clearly visible in our safety, integrity, quality and accountability.
Mission Statement:
☑
TO SERVE
- Our Clients by consistently being the listener.
- Our Employees and their families by fostering an environment with company policies, that build character, strengthen individuals and nurture families.
- Our Community by sharing the Lord's blessings investing and caring for our community.